Eric Morse Photography has over 25 years of experience in landscape and portrait photography and video production. Landscape Photography is an expression of my spiritual connection with the natural world, which developed through family outings on Squam Lake and in the White Mountains.  I received a B.S. degree in Communications from Lewis and Clark College in Portland, Oregon where I also studied photography extensively.
I currently specialize in family gathering portraits at Rockywold Deephaven Camps, on Squam Lake where I work as Harbor Master and Maintenance.  Please view my Portfolios if you are considering hiring a photographer to capture your event or gathering and email me using the Contact form or the address below.
As you will see from the videos on this site, I capture high speed sports of Kitewing and Catamaran sailing on Squam Lake with a GoPro Hero camera.  I live on a small farm in Sandwich, NH and enjoy making maple syrup, roasting coffee, making hard cider, maintaining trails, nordic skiing and backcountry skiing and heating with wood from the property.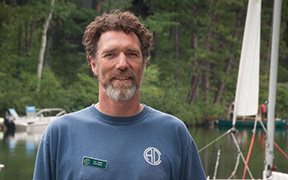 Eric Morse Photography
367 Top Of The world Rd
Center Sandwich, NH 03227
info AT MorsePhoto DOT com